2011 REDEMPTORIST PILGRIMAGE TO FÜSSEN
(12th May 2011)

Video of Monsignor Arthur Bastress's Sermon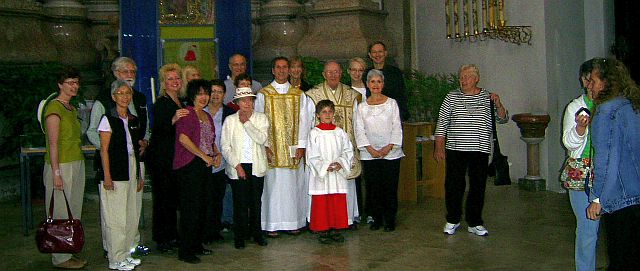 The Redemptorist Pilgrims standing in front of the Shrine of Blessed Francis Xavier Seelos after Holy Mass which was concelebrated by Monsignor Arthur Bastress, Redemptorist Oblate & Father Daniel Francis C.Ss.R.

Thursday 12th May at 1530 hrs saw members of the Neumann Year Pilgrimage (Germany, Austria, Czech Republic): May 10-20, 2011 celebrating Holy Mass in St Mang Basilica.The Pilgrimage led by Spiritual Director,Father Daniel Francis C.Ss.R. and Monsignor Arthur Bastress,Oblate of the Most Holy Redeemer, were on the 2nd day of their pilgrimage which is tracing Redemptorist Saints and Blessed's in Germany;Austria and The Czech Republic.
Father Daniel was professed as a Redemptorist in 1985 and ordained in 1991.He is based in the Anapolis and is in charge of the Redemptorist Office for Mission Advancement.He preaches missions and days of renewal as well as retreats for priests,and religious communities.He is a specialist on the life of Saint John Neumann who has his 200th anniversary of birth this year.Monsignor Bastress is the pastor of St Alphonsus Church in Baltimore.The only Church in the world that if Blessed Seelos is canonised that will be able to claim "2 saints as former Parish Priests" according to Monsignor Bastress.In 2009 he was enrolled as an "Oblate of the Most Holy Redeemer by Auxilary Bishop,Denis J.Maden for all the work he had done in promoting the causes of Saint John Neumann and Blessed Francis Xavier Seelos as well as his work in restoring St Alphonsus.
With these two spiritual powerhouses leading the 21 pilgirims they explored Füssen and the birthplace of Francis Xavier Seelos.They visited the house where he was born,Franz Xavier Seelos Haus,which is the Parish Social centre,saw the house he lived in whilst his father was sacristan.They also saw the baptismal font where he was baptised the day of his birth.
Monsignor Bastress was spiritually moved in the Basilica and when he entered the sacristy he saw some old albs and immediately asked if he could wear one of them.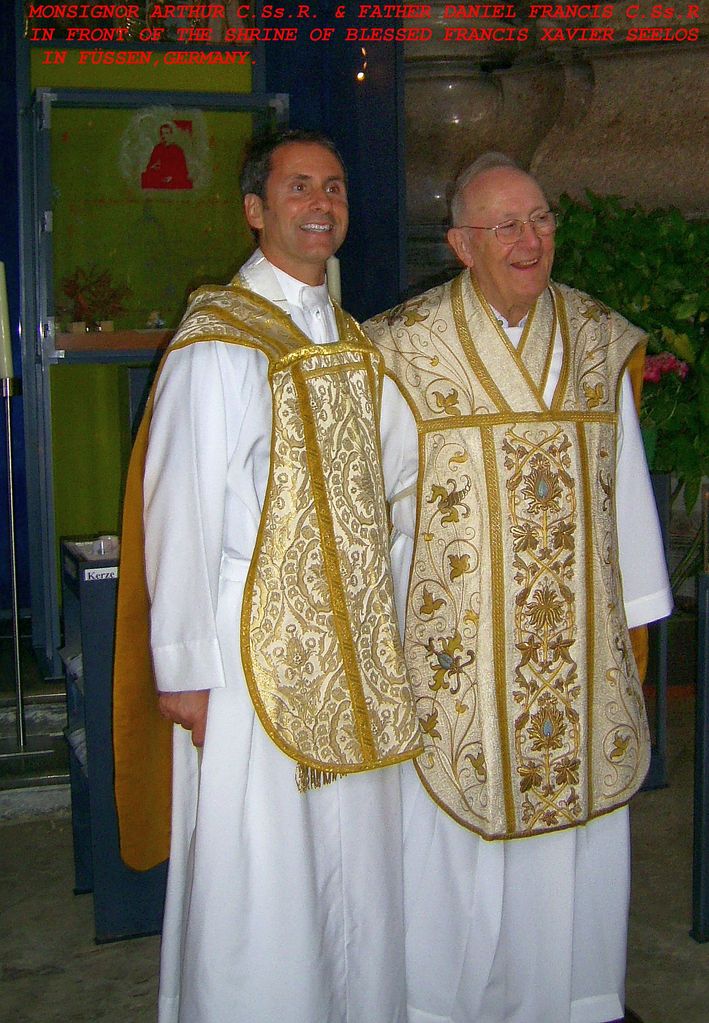 Monsignor Arthur Bastress, Redemptorist Oblate(R) & Father Daniel Francis C.Ss.R.(L)
At the beginning of Mass he pointed out that these were what priests wore in the time of Blessed Seelos. Monsignor Bastress preached the sermon and it was clear how moved he was to be in the same church "where his hero" was baptised.The pilgrimage is being blogged on the Baltimore Redemptorist website The blog for today's visit to Füssen can be found here
More photos of the visit to Füssen can be viewed here

THAT SEELOS MURAL!
(3 June 2011)
We have had quiet a few pilgrimages from the United States of America in recent years visiting Füssen.However the Redemptorist Pilgrimage that came to the birthplace of Blessed Francis Xavier Seelos on 12th May 2011 have discovered the Parish Social Centre!Seelos Haus is a bit off the beaten track.Most Seelos lovers visit the house where he was born,St Mang Basilica and see the house he lived in when his father was sacristan of the basilica.Then most pilgrimages do not have Dr.Robert L Worden showing them around!Dr Worden,author and archivist of St Mary's Church Annapolis had visited Füssen previously and given the then Parish Priest,Monsignor Karlheinz Knebel,on behalf of our parish,a copy of his book about St Mary's,which included a chapter on Blessed Seelos.Dr Worden tells us how he found Seelos Haus origionally."My Wife Norma and I spent 3 days in Füssen in October 2007.We actually did not meet the pastor when we presented the book, although it was passed on to him. We attended the Saturday evening Mass and met the assistant pastor, a Polish priest,(Father Kazimierz Piotrowski,former curate-ED) and Bruno, the sacristan, and one or two others (maybe the sacristan's son). They promised to pass the book on to the monsignor and in return, they gave me several booklets and postcards about Father Seelos and St. Mang's. As to the Franz Xaver Seelos Haus, we came upon it quite my happenstance. On our last morning in Füssen, we drove our automobile part way back into the old town and made a wrong turn into a little street. We found out was not leading us to where we wanted to go, so we turned the car around and drove back out and that is when we saw the beautiful mural of Blessed Seelos on the wall of a large building. This wrong turn was certainly a fortuitous mistake. We love that mural and have shown others our photos of it over the next few years. So when we returned to Füssen on May 12, after we visited the birthplace, I told our group there was another surprise to see... and my wife and I led them to the mural."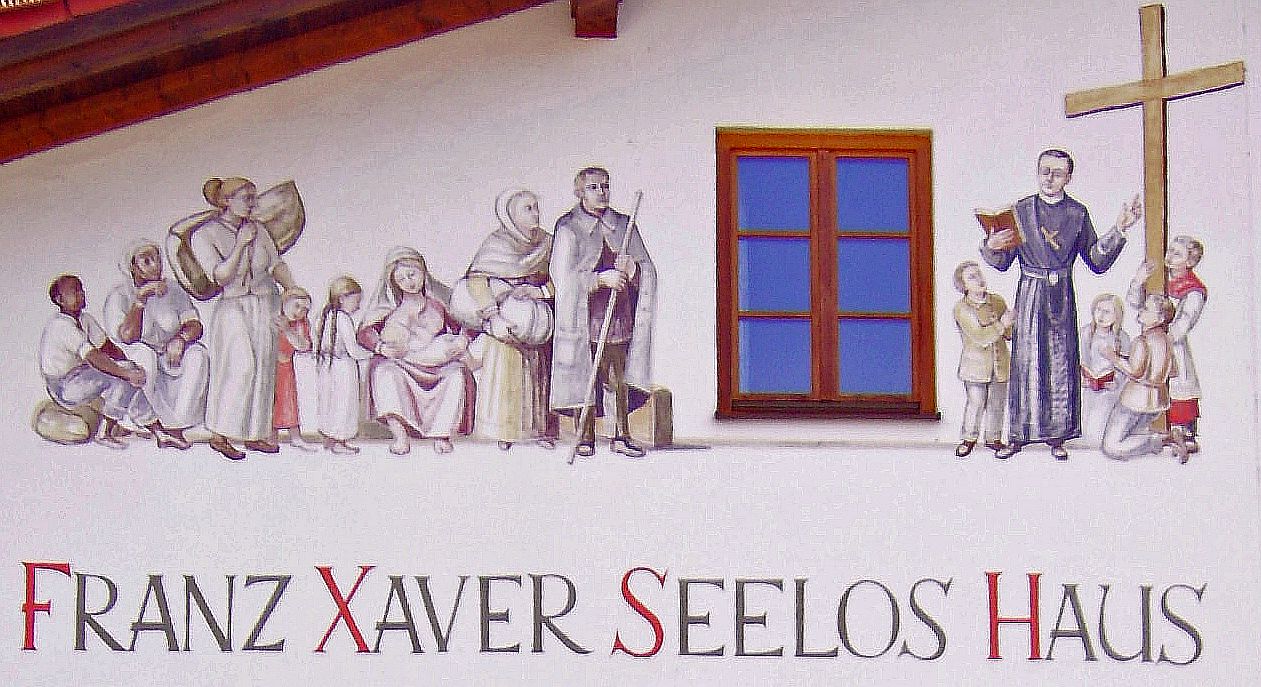 They took photos and then returned to the United States after the pilgrimage.Then the questions began!They asked Father Byron Miller and his staff in the Seelos Center in New Orleans about the mural.Father Miller was in Füssen in 2002 and had not seen it.He asked us what we know about it.It has been there at least since 2006 when we came to Füssen.But what about its history?Prelate Karlheinz Knebel told us "The mural was painted by Otto Kobel of Seeg.He is famous for his work with the "Waal Passion Play" & in 1987 he produced "The mystery of the death of St Mang" play written by Arthur Maximilian Miller here in Füssen.Otto Kobel is also responsible for many religious works of art which can be found in parishes throughout the area.The Mural in Füssen is unfortunately not completed.It shows servers with Blessed Francis Xavier Seelos because the Altar servers from St Mang Basilica meet in the building once a week to play games and get to know each other better.As he worked in the southern States a coloured person was included in the mural to join other representatives of the immigrants and locals who were in need of spiritual care. The completed mural should have shown Seelos when he lived in Füssen and also when he emigrated from Germany to the United States traveling via New York."We are still actively following up this story and will publish more information as we get it.