WHY JOEY CONTINUED ON WITH CANCER TREATMENT AFTER CLAIMS BLESSED SEELOS HAD HEALED HIM(8th June 2010)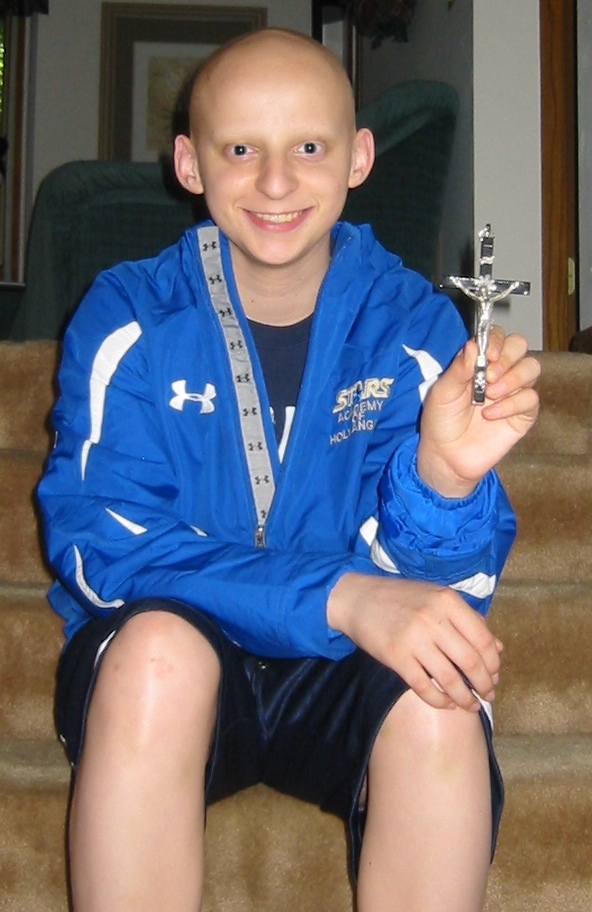 A recent picture of Joey holding the Seelos Cross which was sent to the family by the Shrine last year. It had been blessed by Father Byron Miller,Excecutive Director of Seelos Shrine,it was also touched to various relics of Father Seelos.
Every parent dreads to hear that one of their children is suffering from cancer.Paul Schwartz knows better than many how it feels.On March 10 2008 his son,Joey enterred hospital for a minor surgical procedue to remove a lump.Little did the family know this was going to be a turning point in their lives.Joey was diagnosed with a very rare cancer called Midline Carcinoma.
Since then people worldwide have read about the story of Joey's alleged healing due to the intercession of Blessed Francis Xavier Seelos.
But what is it like to be the parent who has to make the decisions about your child's treatment?Why did the family decide to continue on with treatment when it was claimed Joey had been healed by Blessed Seelos's intercesion?
Joey's father Paul has allowed us an in-site into how the family felt and came to its decisions during this tumultuous time after the alleged healing following a visit to the National Seelos Shrine in New Orleans.We hope it will help others in the same position to know that they are not alone and that through prayer God strengthens us to trust in Him more.
Here in Paul's own words is their story
"I wanted to pass on a quick story related to Joey, and the intercession of Blessed Father Seelos and our Lord Jesus Christ's recent response to our prayers . . .
As we discussed before, we believe that Joey was cured through the intercession of Blessed Father Seelos and the power of our Lord Jesus Christ, during our visit to the Seelos Shrine on August 2, 2009. It's been a difficult journey for us to continue Joey on chemo treatments, poisoning his body with toxic chemicals, knowing that he was already cured. However, understanding that God operates in some mysterious ways, we knew He could possibly be performing Joey's miracle through our doctor's hands, so we continued with treatments.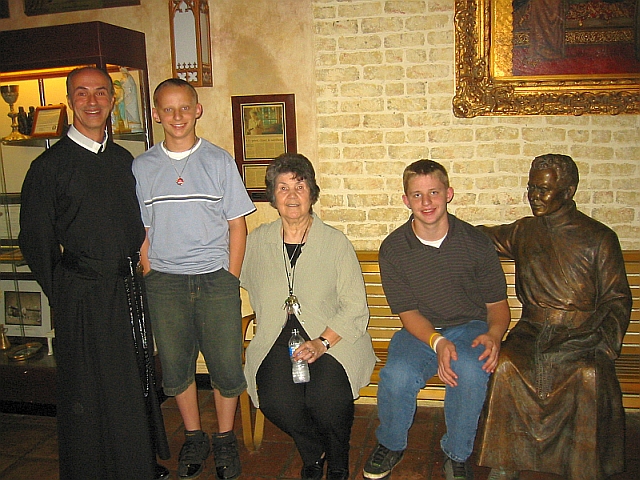 Joey & his brother,Derek at The National Seelos Center,New Orleans
Over the past year, through intercessory and direct prayer, we have been asking God to guide Joey's treatment. Our faith was really put to the test starting this past December. At that time, we began having discussions about the end point of Joey's treatments with our medical team. Our doctor was telling us that Joey might require a minimum of 1 to 2 more years of chemo, possibly even having to be on some form of treatment for the rest of his life. We were very conflicted between faith and logic. We knew God had already cured Joey, but we also knew that he had a highly lethal cancer that had to be treated very aggressively. If God had already cured Joey, but if He was working through the medical team, why were we being told Joey needed 2 more years of treatment?
For the next few months, our doctor was very adamant that extended treatments should be pursued. Believing that God was working through the medical team, we eventually agreed to the extended treatment plan on March 8
I can tell you, we were not very comfortable with this decision. We increased the frequency and intensity of our prayers. We asked Blessed Father Seelos to continue to intercede on Joey's behalf. We asked God to, now more than ever, guide medical team on the most appropriate treatment path.
On April 17, our prayers were answered (yet again). When we came to the clinic appointment, our doctor surprised us by saying he had reconsidered the plan and proposed to end treatment after 2 more cycles of chemo. As adamant as our doctor was only a few week earlier regarding the extended treatment, it could be only by God's direction and influence that he had changed his mind.
On May 28th, we experienced further the effects of God's influence when our doctor came into the exam room and asked if Joey was comfortable in ending treatment now and foregoing his final scheduled cycle of chemo in 2 weeks. Prayer is definitely a very power tool !
So, as of May 28th, we have totally and completely placed Joey's cure in God's hand. We are comfortable with that as our faith is strong, and only get's stronger as we continue to bear witness to His love and mercy. We will also be eternally grateful for the intercession of Blessed Father Seelos for bringing Joey's cause to His attention and securing His mercy and blessings."
To read the full account of his cancer and the stages of treatment please see Joey's Caring Bridge site
JOY AS JOEY OVERCOMES ANOTHER CRISIS DUE TO PRAYER(28 March 2010)
Joey Schwartz whose story has been broadcast worldwide after battling cancer and his alleged healing due to the intecession of Blessed Francis Xavier Seelos was admited to hospital last week.Joey was suffering from a chest infection which made his counts sink very low.Thanks to intecesary prayer he is now back out of hospital and on the mend..
MEMORIAL BRICK PAVER PLACED IN MEMORY OF BLESSED SEELOS(10th October 2010)(Photos:©Schwartz Family)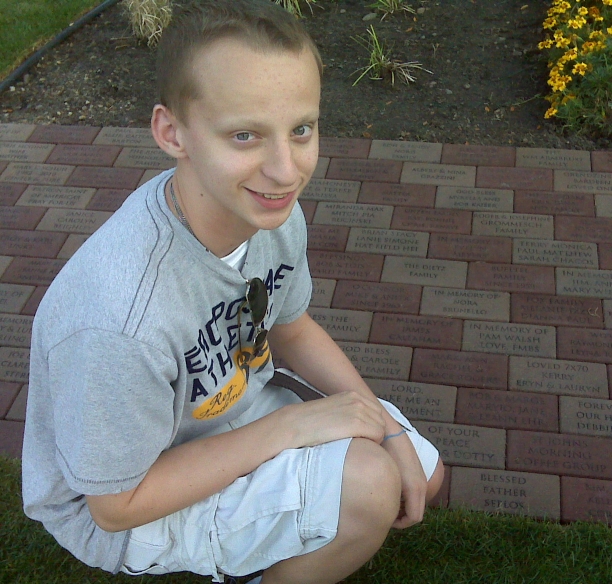 St John The Baptist Catholic Church in Savage, MN is in the process of creating a memorial garden dedicated to the Blessed Virgin Mary.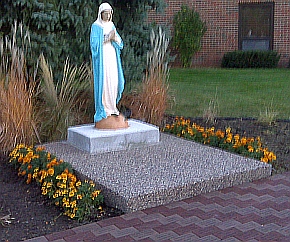 The Parish have decided to use an existing statue of Our Lady as the centerpiece,It origionally came from the Church that stood there in 1902.The garden has a contemplative prayer area and beautiful landscaping.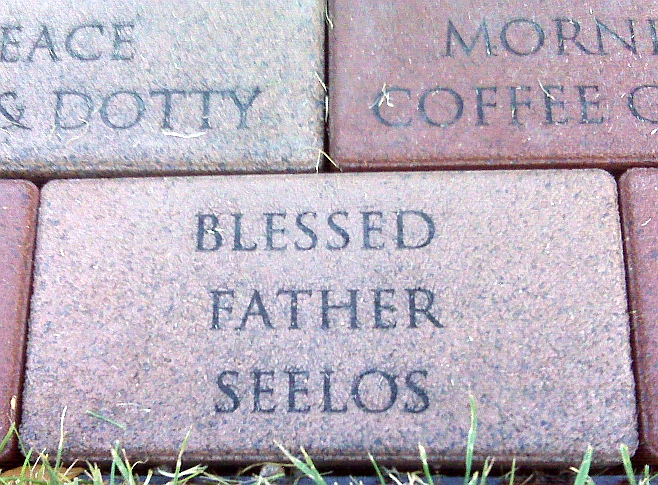 One of the ideas they have integrated into the garden is for small paving stones or "pavers" which can be brought for $100.Each paver can be inscribed with the name of someone living or dead.
The Schwartz family in the Parish who have a lot to thank Blesed Seelos for,they claim that their 15 year old,Joey,was healed of cancer through the intercession of Blessed Seelos.It was therefore no surprise that as Parishioners they wanted to say thank you to Blessed Seelos have one of the pavers inscribed with "BLESSED FATHER SEELOS"
RETURN TO THE SEELOS SHRINE 3 YEARS ON(29 July 2012)
©All Photos in this news story copyright of Paul Schwartz
3 years after suffering from a very rare cancer,Joey Schwartz is to return to the Seelos Shrine this Thursday,2nd August 2012,exactly 3 years to the day his family believe Blessed Seelos interceded for him and he was healed.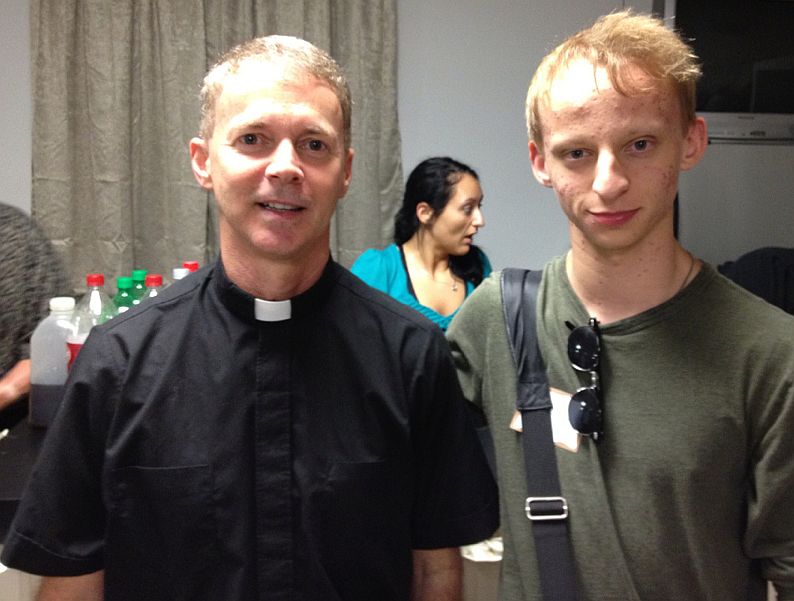 Joey with Father Byron Miller C.Ss.R.
His Father Paul told us "In March of 2008, my then 13 year old son Joey was diagnosed with a very rare and highly lethal cancer called Midline Carcinoma. The average survival time for this cancer is 6 months and there is no proven treatment. At the time of his diagnosis, he was the 14th reported case and there was only one "rumored" survivor.Following the surgical removal of a fist sized tumor from his chest wall, and over a year of highly aggressive chemotherapy and radiation treatments, there was no longer any sign of the disease. We believed Joey had been cured.Unfortunately, during a follow up PET Scan in July of 2009, we were given the news that Joey's cancer had returned. There were now dozens of tumors throughout Joey's lungs and another large tumor on his chest wall. The doctor looked us in the eye and told us he "couldn't offer us any hope" but could try some other chemotherapy agents to extend Joey's life.Following the devastating news, a friend of the family told us about Blessed Father Seelos, a Redemptorist Priest from the 1860s, who was being considered for Sainthood. A few weeks later we headed to New Orleans to visit the Seelos Shrine.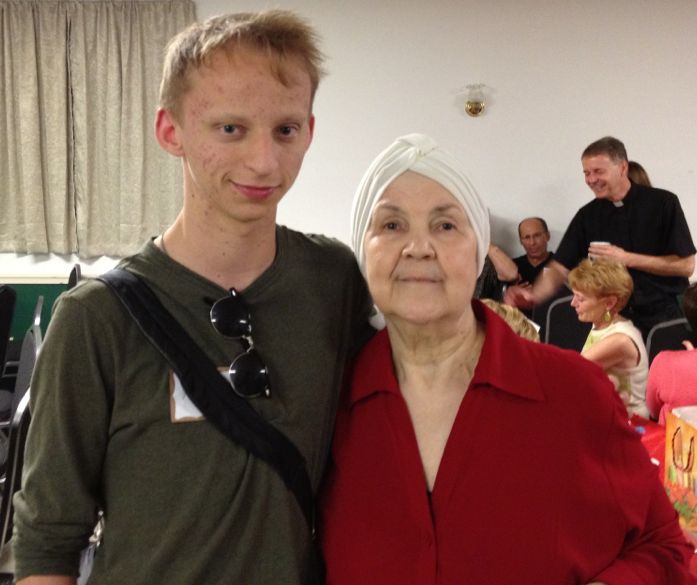 Joey with Joyce Bourgeois,Administrator of the National Seelos Center,New Orleans
A month following our visit to the Shrine, Joey had a followup CT Scan. The scan revealed no detecable signs of disease; all the tumors were gone from Joey's lungs and chest.
Joey remains cancer free to this day, and the positive outcome of his illness continues to mystify his medical team"
The family are in New Orleans,today St Mary's Assumption Parish had a Christmas in July Lunch at the Seelos Knights of Columbus Hall. Father Byron Miller C.Ss.R. thanked Joyce Bourgeois for the time and effort she has put in over the years as the Seelos Center Administrator.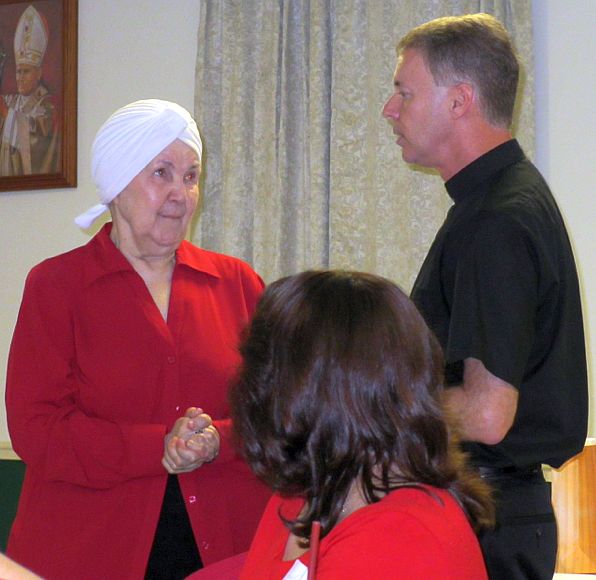 Joyce Bourgeois,Administrator of the National Seelos Center,New Orleans being thanked By Father Byron Miller C.Ss.R.

Joyce has been suffering from cancer herself and still has 8 months of chemotherapy ahead of her.Joyce who has helped and encouraged many thousands of pilgrims to the Seelos Shrine over the years told Joey "that God has a purpose for him. He needs to be a guiding light for young people to believe in and support the Catholic faith."

Father Byron also told those gathered that " another miracle submission was recently turned down . . . a lady who was unable to walk, but regained her mobility after visiting the Shrine."

Joey's father Paul told us " Joey has been designated as a fallback miracle submission of sorts (if they can't get another one approved sooner). The Vatican is now requiring 10 years on cancer cases. Joey has 7 more years left on the clock."

If Joey was eventually to be chosen the 7 years would bring us to 2019,which just happens to be the 200th Anniversary of the birth of Blessed Francis Xavier Seelos on 11th January 1819.