"WANDERTAG MIT SEELOS!"
(27 July 2011)

A class of German schoolgirls visited Füssen,Bavaria today as part of their walking day(Wandertag).This is a normal school day but the children either go for a walk in the local area to see different natural or cultural places of interest.Sometimes schools go further afield for the day.So it was with the 25 year 7 pupils from a Catholic School somewhere in Southern Germany.Accompanied by their teacher they arrived in Füssen at 0900hrs.The first stop on the tour was Franz Xaver Seelos Haus.Here they were shown the work of artist Otto Kobel of Seeg.They next visited the St Nicholas Krippkirche were Blessed Seelos would serve the daily morning Mass at 0730hrs before school started at 0800hrs.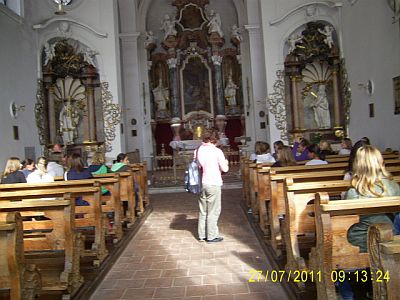 A short walk from the church and the girls stood in front of the market hall.This was originally the building which housed the boys Junior School on the second floor where Francis Xavier studied with the other young boys of his age.Meandering through a small alley and along the outside of the old city walls they soon came upon the St Sebastian Church.


Within the graveyard they viewed the Seelos Family grave.On leaving the graveyard the group went into the St Stephan Franciscan Church.Their teacher explained about the barock architecture as well as pointing out the various Franciscan saints.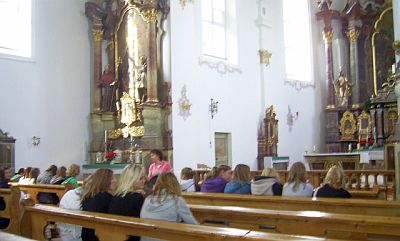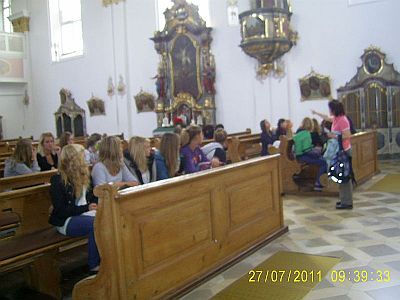 She mentioned that Saint Crescentia of Kaufbeuren had a grandfather who origionally came from Füssen and the children were shown the mini shrine dedicated to her in the church.Back outside the sun was shining over the city and local mountains.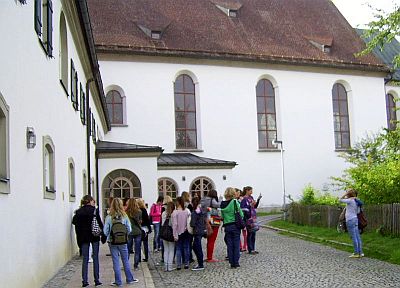 They saw the birth-house where Blessed Seelos was born(Below)


and then visited the Spitalkirche before gathering on the bridge over the River Lech.(Below)

Here as in the other places they visited many of the girls made photos with their mobile cameras.From the bridge they were able to see the Shrine of Our Lady of the Mountain Church.Walking back towards the city centre,they looked in the courtyard of the former Benedictine Monastery.Just around the corner opposite St Mang Basilica they viewed the house Francis Xavier lived in when his father became the sacristan of St Mang.


In the Basilica itself they were shown the Seelos Shrine and were he was baptised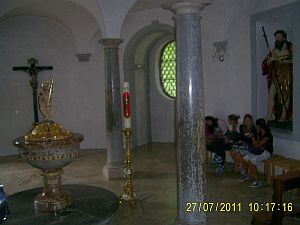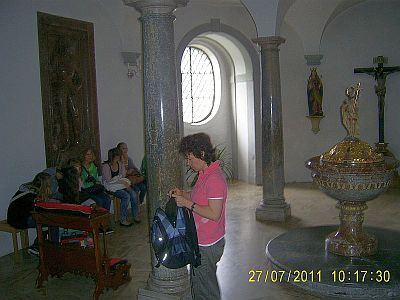 as well as being informed about the Barock epoch in the Basilica.After the customary group photo it was time for relaxation in a local Italian ice cafe.


The girls finished of the day by walking to Bad Falenbach and then had half an hour to themselves to explore the town before departing at midday on the coach back to their school.